English | Francaisswitch sites
Cheque Scanners Designed for Durability
It's easy to think that at some core level, all cheque scanners are basically made the same. But that's not quite true! For two decades, Digital Check has studied the effects of wear and tear on scanners - and we've taken advantage of the latest advances in materials and design to make our equipment the most sturdy and dependable on the market. Here are a few ways that we've used what we've learned to bring a better scanner to you:

Start-to-Finish Production, Not an Assembly Line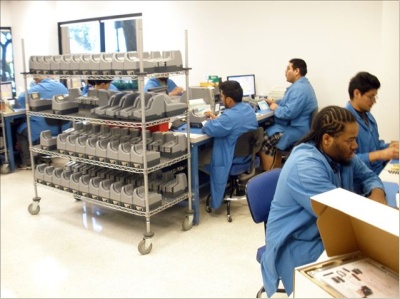 At Digital Check, we use "cell production" instead of an assembly line - each scanner is built from start to finish by one person. Research has shown that individual accountability leads to better craftsmanship, and therefore to better-made machines. Cell production also means that all of our technicians are familiar with every part of the manufacturing process, further improving quality control. With devices expected to last for hundreds of thousands of scans or more, taking the extra step for reliability is important.

Another study also showed that our factory was actually operating more efficiently under cell production - helping us keep costs down for you!
Assembled in the USA
All of our cheque scanners are assembled by Digital Check employees at our factory in Southern California; production is never outsourced. We feel this lets us keep better control over quality, as well as shortening turnaround times for product updates and issue responses.
100% of Devices Tested at the Factory
Every scanner we make is fully tested for functionality before it goes in the box. This has kept our out-of-box and 12-month failure rates down to fractions of 1%. Many of our scanners are still working 10 years and millions of items later! We also offer extended priorityreplacement plans for situations when you know being out of service isn't an option.